Home

Saddle Gallery

Cowboy Mounted Shooting

Guns For Sale

Holsters/Scabbards

Shooter Chick Chinks & Chaps

Shooter Chick Cinches

Our Horses

Links

Contact Us

Vetericyn

Matt Rockwell is sponsored by Vetericyn.

Guns For Sale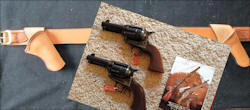 STARTER SHOOTER PACKAGE
A pair of case hardened Taylor Runnin' Irons, including Mounted Shooter Ready Action Job with a plain (can add tooling) set of holsters/gunbelt - same top quality leather, fully lined with sight locks. $1,700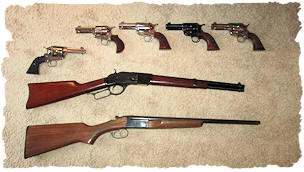 Rockwell Saddles is now a federally licensed firearms dealer. We offer a complete line of mounted shooting pistols, rifles and shotguns.

We try to keep these guns in stock, but, due to the short supply of firearms in the current market situation, please call or text to see what's available.

We also have an assortment of used guns for sale.


541-473-4183 Home
208-739-2507 Cell

PURCHASING YOUR FiREARMS

Rockwell Saddles does not accept credit cards or use PayPal. You will need to send us a cashiers check for the purchase amount. Federal law requires us to transfer the guns through a Federal Firearms License (FFL) dealer in your state. Your FFL will need to email a copy of their license to us, they should be familiar with this procedure.

We will ship your guns immediately ~ thanks!

Del-Ton M - 4 Carbine, 5.56 - 223 Cal. $675
30 round Magazine $15


Carrying Handle Sight $30

---

Ruger Montados, stainless steel, 3.75" barrel, includes Mounted Shooter Ready Action Job. $1,700/pair

---

Ruger New Vaquero, stainless steel, 4 4/8" barrel, includes Mounted Shooter Ready Action Job. $1,525 pair

---

Ruger Talos 5153, blue, 3.75" barrel, with birdshead grips, includes Mounted Shooter Ready Action Job. $1,490/pair

---

Ruger Talos 5151, stainless steel, 3.75" barrel, with birdshead grip, includes Mounted Shooter Ready Action Job. $1,500/pair

---

---

Taylor Short Strokes, case hardened, 3.5" barrel, includes Mounted Shooter Ready Action Job. $1,350/pair

---

Taylor Runnin' Irons, stainless steel, 3.5" barrel, includes Mounted Shooting Ready Action Job. $1,450/pair

---

Taylor Black Rock Runnin' Irons, these pistols have a special coating that makes them easier to clean and black powder resistant, includes Mounted Shooter Ready Action Job. $1,330/pair

---

Cimarron 410 deluxe Shotguns, single trigger. $710

---
*Prices subject to change